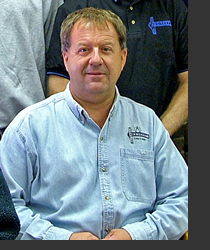 FRANK C. CUDA, P.E.,
Registered in the states of Illinois and Wisconsin.
Frank's entry into the engineering field began during the summer between his junior and senior year of college when he worked with IDOT as a field assistant engineer on the reconstruction of Route 176 between Woodstock and Marengo. Immediately after graduation from Michigan State, he began work for Baxter & Woodman Engineering, Crystal Lake, Illinois, spending most time in their street and roadway division, performing field work, inspection and design. In 1974, he accepted the offer to join McHenry Sand & Gravel/Lakeland Construction as an engineer and estimator. He maintained this position until 1983, gaining extensive experience and knowledge in all aspects of construction, within both the public and private sector. It was also during this time period that Frank obtained his professional engineers license in both Illinois and Wisconsin, and also a Masters Degree in Business from Northwestern University.
When Lakeland Construction closed doors in 1983, Frank returned to the consulting engineering field by taking a position with Everett Scheflow Engineers in Elgin, Illinois. Through the years with this firm, Frank learned the aspects involved in representing municipalities as appointed engineer, along with assisting these municipalities through his knowledge and experience in the construction field. In 1993, he became owner of the company, which officially became Scheflow Engineers. He has maintained his professional engineer's licenses in both Illinois and Wisconsin, and is a member of Kane County Water Association, American Council of Engineers Companies, American Society of Civil Engineers and Water Environment Federation.
He is a lifelong resident of McHenry, Illinois, where he has been continually active in numerous community activities.

Education: 4 years, Michigan State University
Graduated with B.S. degree in Civil Engineering.
M.B.A. degree from Northwestern University
Professional Experience:
1972 - 1974: Baxter and Woodman Engineers, Crystal Lake, Illinois - design and construction engineer for street and highway projects.
1974 - 1984: Lakeland Construction Company, McHenry, Illinois - as construction engineer and estimator.
1984 - 1993: Everett Scheflow Engineers - primary responsibilities included design of street and highway projects, project inspection and construction engineering.
1993 - Date: President of Scheflow Engineers, A Professional Corporation.
ESTHER K. MARKWART, DESIGN ENGINEER
Education: 1 year, Triton College, River Grove, Illinois
3 years, University of Illinois, Urbana-Champaign, Illinois
Graduated with BSAS degree in architecture.
License: EIT
Professional Experience:
1980 - 1987: Sundial Builders, St. Charles, Illinois - Draftsperson and Carpenter.
1985 - 1987: Dixon Associates, AIA Architects, St. Charles, Illinois - Draftsperson on a part-time basis.
1988 - Date: Scheflow Engineers - Design Engineer and Project Coordinator.

RICHARD S. WYGRZYN, FIELD ENGINEER
Education: 4 years Washburn Trade School (Pipefitter), Graduated 1971
Professional Experience:
1968 - 1981: C.H.C. Corporation, Bellwood, IL
1981 - 2003: Service Systems Mechanical, McHenry, IL - Founder & President
2003 - Date: Scheflow Engineers - Field Engineer

PATRICK C. SHARKEY, DESIGN ENGINEER
Education: 2 years, Elgin Community College, Elgin
3 years, University of Illinois, Urbana-Champaign
Graduated with B.S. Degree in General Engineering
License: EIT
Professional Experience:
1999 - Date: Scheflow Engineers - Design Engineer and CADD Technician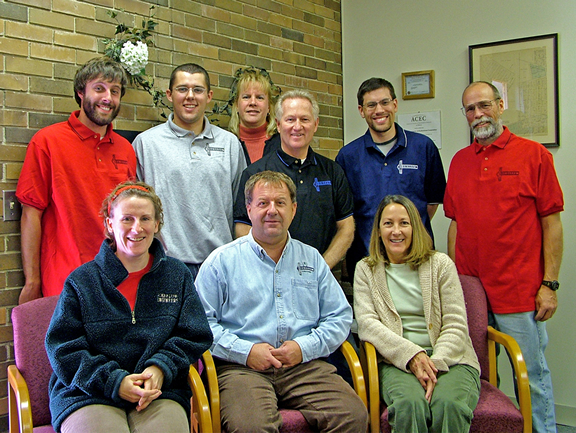 Scheflow Staff 2006